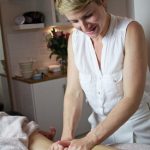 Close your eyes for a minute. Feel your feet on the ground and just take a breath. Be in this moment. Bring to mind someone, something or some place that you love. As you bring that to your mind's eye, notice the feeling that comes with it, where ever it is you feel that. Notice the waves of feelings and the changes those feelings bring to you physically. Are you noticing deeper breathing or perhaps a deep sigh? A little smile on your face? Relaxation of face, jaw, neck and shoulders? Expansion and relaxation of the belly?
Hopefully what that has done is stimulated the hormone oxytocin. You may not know that. You may think you are feeling love. There's no denying there's loving feelings there with this beautiful image in your mind. But the cause of that is oxytocin, among other hormones. These hormones are secreted in the brain by the hypothalamus and act as chemical messengers. They are most well-known for their role in childbirth and lactation, but play a vital role in human behaviour. They are important for sexual arousal, recognition, trust, anxiety and mother-infant bonding. Oxytocin is the 'love hormone' or 'cuddle chemical'. Research is now starting to acknowledge that this chemical is needed for optima social functioning.
Stress, anxiety and tension aka poor mental health result in the fight or flight action of the sympathetic nervous system dominating. This is useful when there is danger and we need to quickly react. Repetitive stress (and this can be in so many forms) in conjunction with not knowing how to calm the nervous system down (I mean who ever taught you HOW to calm down – usually someone is just shouting at you 'WILL YOU CALM DOWN') could mean that the fight and flight mode is continually on. The adrenalin is coursing through your body and may result in physical symptoms: tension, anxiety, panic attacks, insomnia, IBS, skin problems etc etc. Oxytocin on the other had is part of the parasympathetic nervous system – rest and restore. Skin to skin contact is one of the most powerful stimulators of oxytocin. We feel this as children from hugs and cuddles from our family. Children are total oxytocin vampires. Conditioning, society and psychological damage draws us away from the things that naturally give us oxytocin. Part of my clinical work is helping people to reconnect to the things that encourage oxytocic activities. Nourishing herbs also help this as it rebalances hormones all the way through the endocrine system. We then re-learn how to come back into rest and restore, how to relax. But not just relax, but how to rebuild the nervous system.
With skin to skin being one of the most natural ways in which oxytocin is released, I strongly advocate regular therapeutic massage. Not only does massage help release oxytocin, it stretches and smooths muscles fibres to encourage better function. The benefits of massage are countless; lower blood pressure, reduced oedema, improved digestion, improved circulation, reduction in pain, reduction of inflammation, let alone all the more subtle energetic benefits. As a recommendation get monthly massage, minimum every 6 weeks. Be consistent. Try out different treatments and try different therapists until you find someone you really click with. Then stick with that person. As your relationship develops, you will build trust and will get so much more out of the massage. It is a small investment with enormous benefits. I am continually surprised by how much someone gets out of just one hour per month.
I offer 30, 60 and 90 minute massage treatments from Neal's Yard Remedies in Royal Exchange Square, Glasgow. Here are some other great massage therapists and treatment rooms to try: